Plantscape - Interiorscape - Products by Plant Paws™
Plant Paws™
Mini Paws™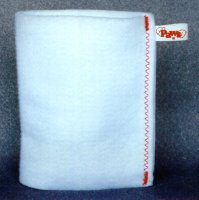 Used by professional Plantscapers world wide
Featured in the interiorscape magazine article entitled "1-Minute Maintenance" written by Linnaea Newman
Plant Paws can be used dry for dusting or wet for cleaning indoor plants and patio plants.
For really dirty indoor plants… place a couple drops of liquid hand soap on a wet paw, rub the wet paws together to spread the soap, then clean both sides of the leaf at the same time. Remember, bugs hide under the leaves and in crevices.
Plant Paws make quick work of washing and waxing cars!


Washing instructions:
Wash Plant Paws in hot water. Bleach and degreasers can be used. Can be Machine dried. (will pill if washed with cotton)
Made in USA, Manufactured by Evergreen Interiors (619) 528-0119
Mega Paws™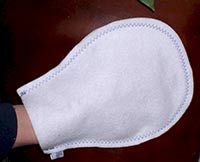 Make quick work out of "BIG" jobs while protecting your hands
Great for wiping down any smooth surface - cleaning your decorative containers
Mega Paws™ are fantastic for washing cars also!
Paw Tips

For washing plants or any smooth surface. Just as versatile as mini Paws™, with one end closed to protect your finger tips.
Drip Catchers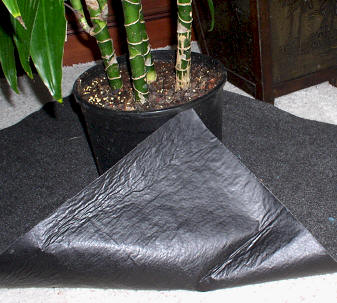 Drip Catchers are tough, reusable black poly-backed throws. Sized for easy handling and quick replacements, these 36" by 30" vinyl backed absorbent pads are perfect for indoor plant installers and plantscape technicians who must protect surfaces from water and soil spills. Easily cleaned with a hose and hang to dry quickly – water wicks out just like capillary mat!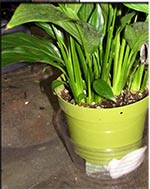 2"X 30' Wick Rolls-

Quick subirrigation!
Just insert wick end into root ball through the grow pot drainage hole, set pot on riser, leaving remaining wick in the bottom of the container. Add water through the grow pot. Also, wicks water out of saucers under exterior containers.
8.5 in. X 30 ft. Pre-cut Sponge Rolls

Sponge cloth pre-cut to fit into open plan containers.
* will yield 12 - 30" container liners or 15 - 24" container liners